With his latest film, The Hundred-Foot Journey, based on the novel by Richard C. Morais, Swedish director Lasse Hallström continues to show his prowess in lyrical films that straddle the realms of reality and fairytale.  Filmed mostly in luxurious 35mm, The Hundred-Foot Journey is a delectable delight on the senses, with equally lush shots of food delicacies and the southern French countryside.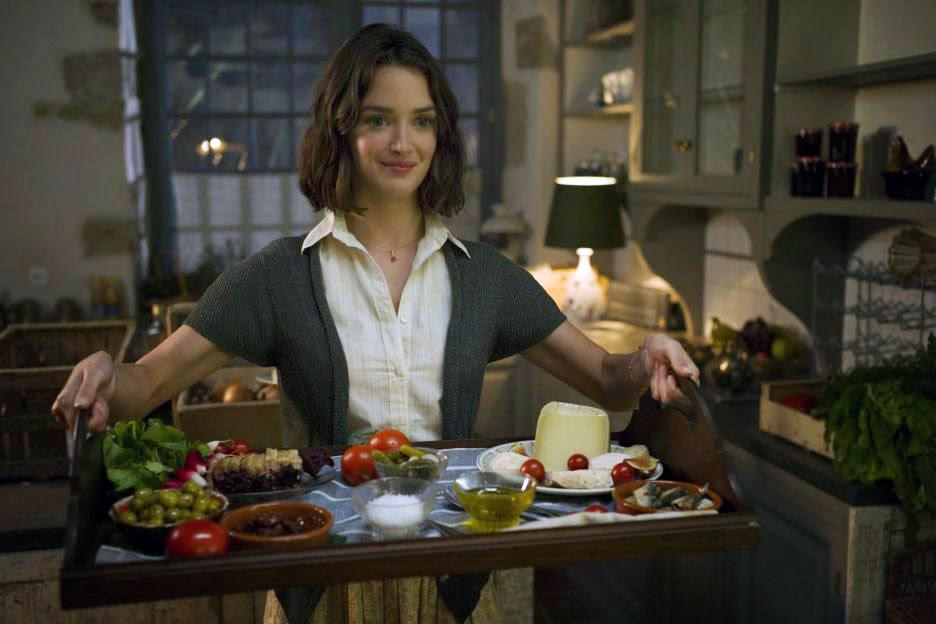 The breaking of accepted social norms through magical culinary gifts is not unfamiliar territory with Hallström, given his 2000 Oscar-nominated film Chocolat, whose protagonist Vianne clearly possessed an other-worldly talent for making chocolate confections.  But while Chocolat was an outright fairytale, The Hundred-Foot Journey is slightly more grounded in reality, showing some of the prejudice and mistrust a clash between 2 very different cultures would inevitably bring forth.  The coincidences, though often occurring in daily life, nonetheless keep the film floating in fairy dust: the first French person to help Hassan and his family is a beautiful young woman who turns out to be a sous-chef at the very French restaurant that Hassan will be contending with soon enough.  Everyone in the sleepy little French town of Saint-Antonin-Noble-Val seems to speak English, and speak it well, even alternating between French and accented anglais when speaking to each other; and though Helen Mirren is wonderful as always, one still has to wonder why a French woman was not cast for the part of Madame Mallory, being such a quintessentially French character.
But even with certain plot flaws, Hallström is still able to pull off a winning film by his knack of bringing some of the wonder of life back on the table (pun intended).  Many of his other films possess the same hope in the human spirit, and the magical lyricism he infuses each of his films, from My Life as a Dog to What's Eating Gilbert Grape to Cider House Rules and Chocolat to Hachi and Salmon Fishing in the Yemen to his latest Hundred-Foot Journey, keeps the tone from getting too heavy-handed.  Gorgeously shot, Hallström's films are always a feast for the eyes, whether it's the fall colors of the east coast or the idyllic countryside of southern France, a testament to how beautiful the world still is and still can be.
And instead of choosing grand and epic stories to express his grand and epic belief in the indomitable human spirit, Hallström chooses the smaller, more personal stories to hit the matter closer to home, and thus perhaps, closer to the heart.  In Salmon Fishing in the Yemen, the ridiculous eponymous premise is made believable by the characters themselves, their impossible dream made possible through the strength of their vision.  In his own way, Hallström conveys through his films that we are the makers of our own future, that even salmon could be made to swim upstream in Yemen.
In The Hundred-Foot Journey, when Madame Mallory comes out in the rain to wash away racist vandalism on Hassan's wall, she comes out without her usual armor of Chanel suit and requisite makeup but just as she is, just a person helping another.  Through this act she communicates without words her wish to extend an olive branch to her culinary and cultural enemies, a moment made more powerful by its silence.  It is through these small gestures that the true character of a person can be seen, and it is also through such forgotten acts of kindness that "we have it in our power to begin the world again."  But while Thomas Paine wrote that with an epic revolution in mind, Lasse Hallström believes it equally in the smaller everyday gems and beauties of life, conjuring his films to depict just that.