[WARNING: SPOILERS AHEAD!]
Much buzz has been flying around the rumors of a possibly game-changing plot twist in Episode VII, with deleted YouTube footage and images keeping all Star Wars fans itching to know: Does Luke Skywalker indeed turn to the Dark Side?
Certainly the idea of an evil Luke has been batted around since 1981 between George Lucas and co-writer Lawrence Kasdan, originally for Return of the Jedi. Taken from J.W. Rinzler's The Making of Return of the Jedi, Lucas is quoted saying to Kasdan during a story meeting:
"I think it'd be great for Luke to try and help Vader while the thing [Death Star] is blowing up. And then Vader gets his cape caught in the door and says, 'Leave without me' and Luke takes his mask off. The mask is the very last thing – and then Luke puts it on and says, 'I am Vader.' Surprise! The ultimate twist. 'Now I will go and kill the fleet and I will rule the universe.'"
Kasdan responds, "That's what I think should happen."
But in the final analysis, Lucas opted to keep Luke a Jedi, taking into consideration the kid fan base that would go see ROTJ.
And while there is certainly a dark side to Luke, especially given his father, the reasons why he would become a Sith are questionable.  Seeing how the dark side tortured and disfigured Darth Vader both internally and externally, would Luke really repeat the actions of his father?  Of course, one could argue that he became drunk with power and succumbed to temptation, a fallen angel; this is plausible, as it happens all the time in real life, but in regards to the Star Wars universe, this premise would sort of defeat the whole purpose of Luke's journey.
With Episodes I-III we already have the fallen angel story with Anakin Skywalker, who does succumb to darkness, fueled by his rage from his mother's death.  In episodes IV-VI the son redeems the sins of the father, bringing balance to the entire galaxy.  For episode VII to reveal that Luke was just kidding and is actually evil, backstory is needed to cite the critical point during the interim years between VI and VII that propelled Luke over the edge to choose Sith over Jedi.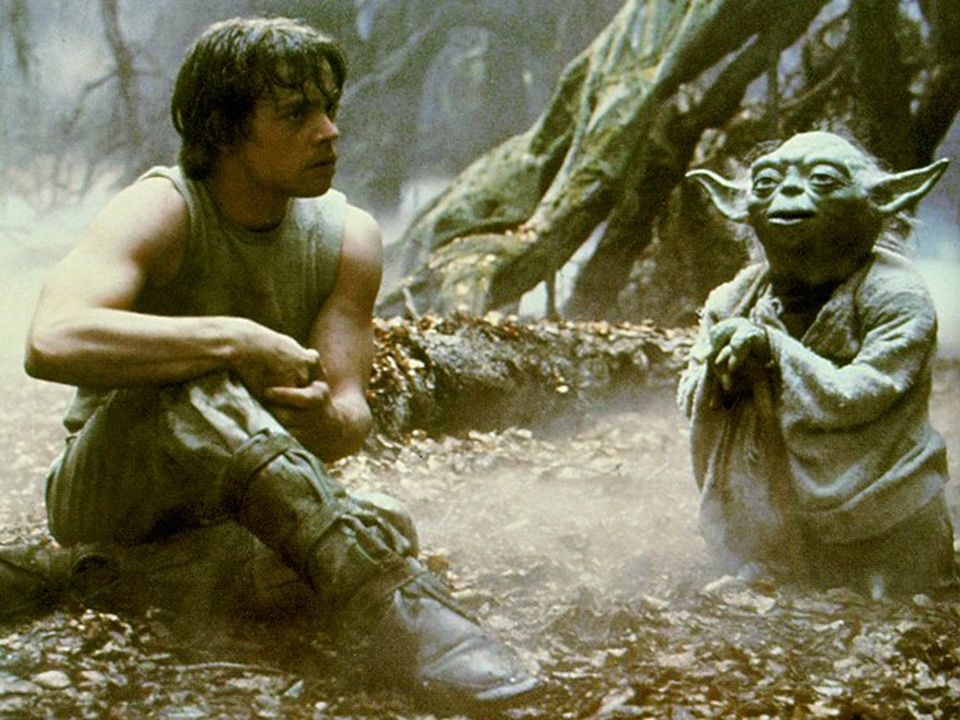 And wouldn't Yoda have seen through Luke like he had with Anakin and refused to train him?  This is an all-together perplexing oversight considering Yoda's omniscience.  Of course, The Empire Strikes Back would have been a completely different story if Yoda did suspect that the apple did not fall far from the tree, yet far more intriguing if the little green master still decided to train Luke.  Yoda may have hoped that Luke would choose the Force instead of the Dark Side, being perhaps more even-keeled than Anakin, and reinforced Luke's light by deciding to train the young Padawan himself.  So the ultimate betrayal would be for Luke to still follow the way of his father.
But the above scenario is not what happened in Empire and Luke on all accounts throughout IV-VI always chose the way of the Force, even when tempted by the Emperor.  Without precedence suggesting even a curiosity in the dark side, a significant event would have to have occurred and need to be alluded to in VII to explain why Luke became a Sith.
What seems much more plausible is the Emperor surviving the fall in ROTJ and coming back with a vengeance in VII.  However, the wrench in this theory is Daisy Ridley's character (Kira?) and her purported story arc of seeking Luke for help then realizing he's the very baddie she needed help with, the shock of which makes her turn to the dark side too.
With heroes and heroines going Sith left and right, is it no longer cool to be a Jedi??